PremAire® Combination
The PremAire Combination, a Combination Supplied Airline Respirator with compressed air cylinder, is designed to be versatile, comfortable, and affordable. A streamlined design offers a first stage pressure reducer and cylinder valve within one assembly, creating a very small size and profile that is less likely to snag when working in confined space or tight places. The PremAire Combination can be equipped with either the 3S-PS-MaXX or the Ultra Elite-PS-MaXX full face mask in combination with the AutoMaXX-AS lung-governed demand valve.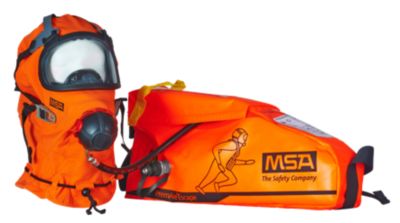 PremAire® Escape
PremAire Escape is a positive pressure short duration compressed air emergency escape breathing device (EN 402) that provides the user with respiratory protection while escaping from toxic atmospheres. The components of the respirator withstand high levels of potential industrial gas leaks and harsh chemical environments. With its intuitive donning procedure that takes less than 5 seconds, the PremAire Escape enables the wearer to escape without difficulty from a potentially hazardous environment. It offers an air supply of 10-15 minutes duration. The standard PremAire Escape is equipped with a 3S full face mask. For potential high concentration industrial gas leaks, like deadly H2S, the device is available with the PremAire Mask-Hood.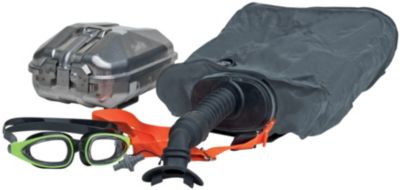 SavOx
This chest-worn protective escape device provides oxygen on demand wherever toxic gases, particles or oxygen deficiency can be imminently present. Ready-to-use, it's small in size and low in weight, making it easy to don, use and carry. Features a double heat-exchanger system to reduce inhalation air temperature to a comfortable level. The TR device allows quick and economic training of donning and use by simulating the weight and properties of real units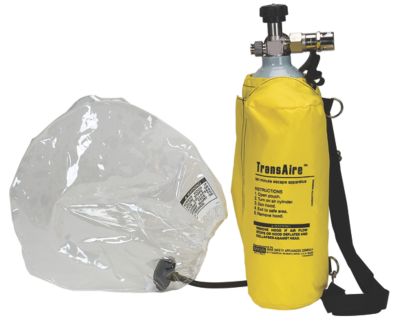 TransAire® 5 and TransAire® 10 Escape Respirator
These self-contained devices help personnel escape dangerous and deadly atmospheres, including those with high concentrations of toxic gases or vapors or oxygen deficiency. Low profile, lightweight, and easy to carry, these escape respirators feature one-control operation for a swift exit.