Featured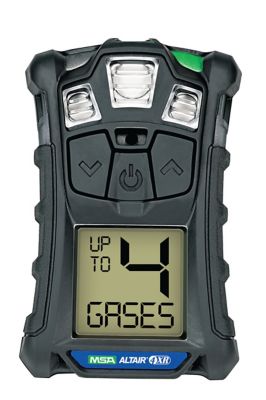 ALTAIR® 4XR Multigas Detector
Outfitted with rapid-response MSA XCell® sensors, the ALTAIR 4XR Gas Detector is the toughest 4-gas monitor on the market and is backed by a 4-year warranty. The ALTAIR 4XR can also provide real-time incident awareness to team members, supervisors, safety managers and others when paired with the MSA ALTAIR Connect app via a Bluetooth® wireless connection.
Featured
ALTAIR® 2X Gas Detector
 All ALTAIR 2X Gas Detectors * Incorporate proven XCell® sensor technology * Enhance worker safety, compliance and traceability * Minimize cost of ownership * Demonstrate rugged durability  Product Options * ALTAIR 2XP Gas Detector with XCell Pulse Technology: H2S  - * Features the first stand-alone bump test, which eliminates the need for bottled gas! * Bump test anytime, anywhere * Based on proven science and patented sensor capabilities * ALTAIR 2XP Gas Detector with XCell Pulse Technology: H2S * ALTAIR 2X Gas Detectors: CO, CO-HC (High Concentration), CO-H2 (Hydrogen Resistant), H2S-LC, SO2, NO2, NH3 and Cl2 * ALTAIR 2XT Two-Tox Gas Detector: CO/H2S, CO-H2/H2S, CO/H2S-LC, CO/NO2 and SO2/H2S-LC
Featured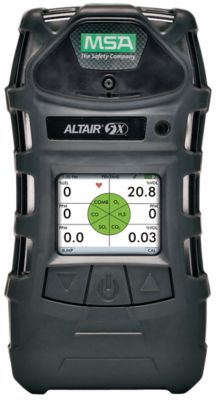 ALTAIR® 5X Multigas Detector
The ALTAIR 5X Gas Detector is capable of measuring up to 6 gases simultaneously and is now available with integrated PID sensor for VOC detection. Driven by advanced MSA XCell® Sensor Technology,  the ALTAIR 5X Gas Detector delivers  faster response time, better stability, accuracy, longer service life, and cost savings over the life of the instrument.
Featured
MSA Link Pro is now Safety io Grid Fleet Manager
Simplify your gas detection safety program. Assess, address and share your MSA fleet status from any computer with an Internet access. Learn more about Fleet Manager. Prefer the traditional MSA Link Pro platform? Check out the HIGHLIGHTS tab for more details.
ALTAIR® 5 Multigas Detector
The ALTAIR 5 Multigas Detector features the brightest, most legible high-resolution display in the industry. Our 6-gas detector also boasts an intuitive menu display and large buttons for easy operation, even when wearing gloves. The patented PulseCheck® Pump draws its power from the battery pack, which means the pump doesn't need a separate power supply. The detector also features exclusive the MotionAlert™ system, which lets others know if the user has become immobile, and InstantAlert™, a manual alarm that alerts others if a dangerous situation arises. * Multigas detector tests for ammonia, chlorine, hydrogen cyanide, phosphine and sulfur dioxide * Convenient display features brightest, most legible view in the industry * Miniature catalytic combustion sensors reliably detect up to 100% of LEL combustible gases, including many solvents * MotionAlert option tells others that user has become immobile * InstantAlert provides manual alarm to alert others of a dangerous situation * Reliable MSA Galaxy® Automated Test System provides easy calibration and record keeping * Versatile MSA Link™ allows user to transmit data to a computer * Choice of 18 Preprogrammed languages for global versatility * Rubber over-molded housing provides excellent grip, and water- and dust-resistant shell * Rechargeable lithium-ion battery provides lengthy battery life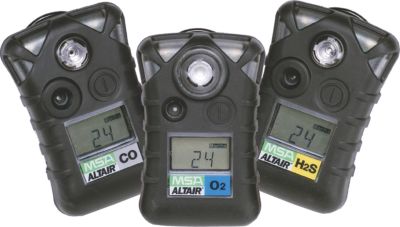 ALTAIR® Single-Gas Detector
Designed for superior lifespan—patented sensors operate for over two years—and high performance, the ALTAIR Single-Gas Detector is the smart choice for market-leading, cost-effective gas monitors. Features sensor options for carbon monoxide, hydrogen sulfide, and oxygen coupled with LED/audible/vibrating alarms. Superior dust/water protection, high RFI resistance, and one-button operation provide heightened safety, plus increased durability and ease-of-use.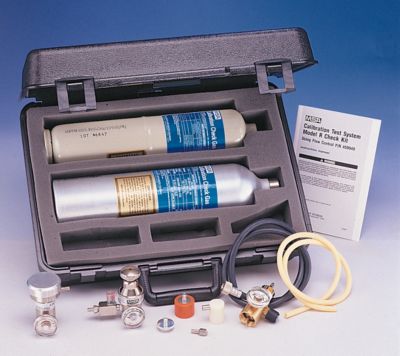 Calibration Kits
Simple, accurate calibration is easy with these economical, all-in-one kits. Choose from 14 different types for sensor and instrument calibration. Kits can accommodate 2 cylinders, regulators, tubing, accessories and instructions. All kits housed in a lightweight carrying case, making it convenient to carry everything directly to the sensor location or job site.